Vacant Position Titles
1. Department Manager C
2. Technical Assistant B
3. Secretary B
4. Procurement Assistant A
5. Driver
6. Water Utilities Management Officer A
7. Laboratory Technical B
8. Corporate Accountant
9. Corporate Accounts Analyst
10. Customer Services Assistant C
11. Customer Services Assistant B
12. Water Maintenance Man A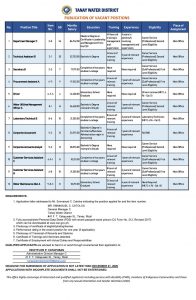 Requirements:
1. Application letter addressed to Mr. Emmanuel C. Catolos indicating the position applied for and the item number.
MR. EMMANUEL C. CATOLOS
General Manager C
Tanay Water District
#41 F. T. Catapusan St., Tanay, Rizal
2. Fully accomplished Personal Data Sheet (PDS) with recent passport-sized picture(CSC Form No.212, Revised 2017) which can be downloaded at www.csc.gov.ph;
3. Performance rating in the recent position for One (1) year (if applicable);
4. Photocopy of certificate of eligibility/rating/license
5. Photocopy of Transcript of Records and Diploma
6. Certificate of Training and Seminars attended; and
7. Certificate of Employment with Actual Duties and Responsibilities
8. Deadline for submission of application is not later than December 21, 2020.
This office highly encourage all interested and qualified applicants including persons with disability (PWD), members of Indigenous Communities and those from any Sexual Orientation and Gender Identities (SOGI)